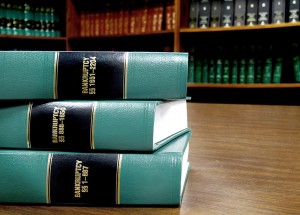 A written tour of business bankruptcy and its alternatives
A typical commercial litigation case involves a judge, a plaintiff, and a defendant.
A typical commercial bankruptcy case also has a judge, but that's about where the similarities stop.
A typical commercial litigation case, you see, is a two-party dispute. A typical commercial bankruptcy case is anything but. Who are the parties? The company that files the bankruptcy is the debtor (once a chapter 11 petition is filed, the debtor is called the debtor-in-possession). And, a debtor can have any number of creditors, each of whom has standing to appear in the case. And, of course, there is the bankruptcy judge.
The bankruptcy judge presides over the bankruptcy case. There are approximately 340 of them. Their backgrounds vary; some came from bankruptcy practice, some did not. Each bankruptcy judge has a courtroom deputy and at least one law clerk. Distinct from the law clerk is the clerk of court, with whom bankruptcy pleadings are filed.
Sounds like a lot of players, right? But we haven't even begun to describe all the parties.
Because any one unsecured creditor has to make the difficult choice of whether to spend time and money in a bankruptcy case, and many decide not to, Congress decided to include in the Bankruptcy Code a unique player: the official committee of unsecured creditors.
The committee typically consists of a small number (typically three, five, or seven) of the largest unsecured creditors willing to so serve.  They are selected by the United States Trustee's Office. The committee hires counsel and sometimes financial advisors or other professionals who are paid for by the debtor's estate. It has standing to be heard in the case and its views tend to be taken very seriously by the bankruptcy judge.  The idea is that the committee serves as the proxy for all general unsecured creditors.
Other official committees can also be appointed. These include equity-holder committees, retiree committees, bondholder committees, etc., and unofficial committees, neither appointed by the U.S. Trustee nor necessarily paid for by the estate, may also form and be active in a case, although these additional appointments are not common.
We mentioned the United States Trustee above.  This is a government official, separate from the bankruptcy court and, actually, is a division of the U.S. Department of Justice.  One of its jobs is to keep an eye on chapter 11 cases.  Another of its jobs is to appoint chapter 7 and chapter 13 trustees.
Secured creditors come in all shapes and sizes.  A creditor may be secured by a judgment.  Or by a lien on certain equipment.  But one type of secured creditor, in particular, often has a tremendous role in a chapter 11 case:  the secured lender. Most businesses of any real size typically have a secured term loan and/or secured line of credit with a bank or other institutional lender and much of the time that lender's security includes substantially all of the company's assets, including cash.  There are special rules that protect a lender who has a security interest in a debtor's cash.  We will have a lot more to say about this in future installments.
We're still not done; a chapter 11 case can still have many more players.  But we grow tired for the week and must feed on some late night television (one of us must catch up on The Walking Dead).  Let us just note one more for now:  the buyer.  A party who wants to purchase the debtor's assets often becomes a main protagonist in the drama that is bankruptcy.
To read other installments in this series, click here.
For a great discussion on insolvency, we recommend this webinar and this webinar. You can also learn about federal equity receiverships here, and get advice on what to do when your business is struggling here.