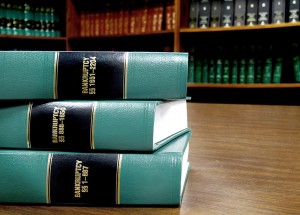 A written tour of business bankruptcy and its alternatives
In order to understand the options a financially distressed business (or its owners, creditors, or potential buyers) has, one has to understand the Bankruptcy Code.
The Bankruptcy Code is contained in Title 11 of the U.S. Code and is divided into chapters. Chapters 1, 3 and 5 are "general" chapters, applicable in all cases:
Chapter 1 contains definitions, defines who can be a debtor, describes the courts' powers, and contains some other general rules.
Chapter 3 governs "case administration," which sounds rather modest until you understand that, in many ways, Chapter 3 is the heart of the operation of the debtor's estate during the pendency of the case. It includes the rules for the filing of new cases, employment of attorneys and other professionals, the automatic stay, the use, sale and lease of estate assets, post-petition financing, executory contracts, the dismissal and closing of cases, and some other matters.
Chapter 5 covers a wide variety of matters relating to the rights of debtors and creditors, including claims, priorities, exemptions, discharge. Chapter 5 also includes the "avoidance" provisions, which allow a debtor or trustee to reverse certain transfers made prior to the petition date.
NOTE: Chapters 7, 9, 11, 12, and 13 are each specialized, meaning that they are applicable only in a bankruptcy case filed under that chapter.
Chapter 7 provides additional rules for cases in which a trustee liquidates the debtor's assets. Both individuals and business entities can be chapter 7 debtors. Corporate chapter 7 debtors are just liquidated and do not get a discharge (they don't really need one; liquidated corporations are not usually attractive defendants). Individual chapter 7 debtors turn over their non-exempt assets (if any) to the trustee and then ordinarily get a discharge, which covers most (but not all) kinds of debts. The earnings of individuals from post-petition personal services do not become part of the bankruptcy estate in chapter 7.
Chapter 9 provides rules for reorganization of "municipalities," which are subdivisions of states (but not entire states) like cities, counties, and water or sewer districts. Due to notions of federalism and sovereign immunity, the bankruptcy court has far less power to impose an outcome on a municipality and the entire process, as a result, often appears more as a court-supervised negotiation and mediation than an adjudicative process.
Chapter 11 contains the rules for reorganization of both companies and individuals, though liquidations and outright sales of companies also commonly occur in Chapter 11.
Chapter 12 covers the "adjustment of debts of a family farmer or fisherman with regular annual income." Chapter 12 essentially provides a Chapter 13-style reorganization for people in these two professions that do not qualify for Chapter 13 relief because of the capital intensive nature of their businesses and the resulting high secured debt levels.
Chapter 13 governs the "adjustment of debts of individuals with regular income." In other words, it is a form of reorganization for individuals, primarily wage earners and small business owners. In Chapter 13, the debtor submits a portion of her post-petition earnings to pay pre-petition debts. In return she gets protection against creditor action, and a chance to restructure some of her pre-bankruptcy debts.
Aside from these chapters is a relatively new "chapter 15" that governs cross-border insolvencies. It isn't really a full- dress bankruptcy device like the other chapters: rather it is a mechanism for allowing domestic and foreign bankruptcy tribunals to cooperate and avoid conflicts. (For a great discussion on insolvency, we recommend this webinar and this webinar.)
Aside from the Code, bankruptcy law is found in other titles of the United States Code. Bankruptcy jurisdiction provisions are in Title 28 of the Judicial Code. Bankruptcy crimes are found in Title 18, the Federal Criminal Code. There is some bankruptcy tax law in Title 26, the Internal Revenue Code.
Although bankruptcy is federal law, it incorporates implicitly and by reference large amounts of applicable non-bankruptcy law. Some non-bankruptcy law is federal, but much is state law: contracts, property, torts, secured transactions, corporate law, intellectual property and the like. Thus, bankruptcy lawyers must, to some degree, be general business lawyers and be somewhat versed in all these fields, at least enough to know when to bring in experts in these fields.
The Federal Rules of Bankruptcy Procedure, a cousin to the Federal Rules of Civil Procedure, and the Federal Rules of Evidence, also apply in bankruptcy cases.
Finally, bankruptcy courts in a district or division (of a district) also have their own local rules. Individual judges may have their own "local, local rules." Thus retention of local counsel can be especially helpful if an attorney is practicing pro hac vice in a jurisdiction with which she is unfamiliar.
To read other installments in this series, click here.
For a great discussion on insolvency, we recommend When a Customer Becomes Insolvent Webinar and Buying Distressed Assets and Securities Webinar. You can also learn about federal equity receiverships, and get advice on what to do when your business is struggling.