NAFER (the National Association of Federal Equity Receivers) held another wisdom-rich conference in October, this time at the Drake Hotel in Chicago.  It was the seventh annual event and attracted 200 attendees. The conference included the Training Camp as well as panel discussions on snares and pitfalls for receivers, cryptocurrency, overseas asset recovery and more.
We note gratefully that the proceedings were again overseen and moved along by the witty and time-sensitive Robert P. Mosier. Chicago, our kind of town and hometown, provided ample pleasant settings in which fellow practitioners could kibbitz and get to know one another.
The Training Camp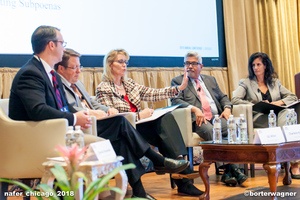 "Receiver's Training Camp: The Third Quarter" followed Quarters One and Two conducted at prior conferences.  NAFER president-elect Kevin Duff (he has since taken office) and very likely future president Kathy Phelps moderated the discussion, talking over strategy and game plans with Gil Miller, Charlene Koonce, the Hon. Philip Gutierrez, and Dennis Roosien. After a receiver is appointed, then what?  How do you assemble a team and in what sequence?  In addition to discussing the basics ("blocking and tackling") regarding retaining professionals, fee approval processes, and explaining to the appointing court why what is needed is needed, the panelists peppered the audience with practical suggestions. A receiver might try interviewing employees at their desks, sitting where they sit, which can yield surprising information.  The receptionist's computer which serves as the company's eyes and ears on the perimeter of the office should be a priority search. Electronically-stored information must be extracted rapidly from information systems to authenticate potential evidence. The NAFER Conference App – a superb resource for practitioners – included 101 pages of forms for standard court filings in receivership cases.
The Panel Discussions
"Introduction to International Issues: Where Has All the Money Gone" presumes malefactors who have employed complex corporate and trust structures across multiple jurisdictions to obscure the location of ill-gotten gain. Paul Brown, James Faulkner, Kenneth Krys, and Alex Moglia were on their feet and moving throughout, like a defensive secondary defending against a wily fraudster offense. That panel blended topics with "So We Have an Asset Where? Recovering Assets in Different Jurisdictions," which featured Stephen Leontsinis, Nicholas Partouche, Daniel Coyle, and Chip Hoebeke. Both were devoted to the same objectives: locate, seize, freeze, liquidate, and repatriate. The former focused on initial decision trees under conditions of limited information.  The latter stepped back to explore jurisdictional variances in available remedies and the different timeframes for obtaining them in civil law and common law systems.
In "Snares, Snags, and Pitfalls for Even the Scrupulous Receivers," past presidents Ira Bodenstein and Greg Hays, along with Tim Leiman, Henry Sewell, and Geoff Winkler discussed how the receiver and his or her professionals can minimize the risk of liability. Of prime importance is to understand the boundaries of the receiver's duties under the order appointing the receiver, and also to ensure that the receiver and the court have a meeting of the minds on those boundaries. Other best practices: getting court approval whenever possible; disclosing all material facts; reporting regularly; and minimizing business risks.  The attached materials included a vast digest of relevant case law that should be required reading for receivers.
"Protecting Your Ass(ets): Advanced Strategies on Sales & Insurance Issues," featuring Melanie Cyganowski, Marion Hecht, Anne McKinley, Jonathan Perlman, and Todd Wohl, also addressed potential liability for the receiver.  The panel reviewed the receiver's liability for failing to procure or maintain insurance (including E&O insurance for fiduciaries, surety bonds, fidelity bonds, common types of insurance for property) in connection with the management and sale of receivership property. The federal receiver's statute is sparse but it does impose on receivers a duty of good faith and ordinary care with respect to the assets of the receivership. The panel also discussed modes and methods for marketing and selling receivership property, touching on issues familiar to practitioners of the same arts in bankruptcy cases.
The NAFER conferences helpfully provide perspectives from federal regulators. This time, the attendees heard from Susan Gradman (CFTC) and David Hirsch (SEC) on the panel of "Demystifying Cryptocurrency and Blockchain for the Federal Equity Receiver." Their fellow panelists were Josh Lawler, Jordan Maglich, and Mark Rasmussen. All did a fine job of introducing the audience to basic concepts of cryptocurrency, distributed ledger technology, initial coin offerings, and smart contracts. They addressed disputes over whether a particular virtual currency is a security (subject to the SEC) or a commodity (subject to the CFTC), and presented fraud scenarios. The conference materials, totaling 88 pages, are an enviable resource for those of any level of familiarity with the subject matter.
Not all federal equity receiverships sprout from the CFTC, FTC, and SEC. The "Federal Receiver's Guide: Non-Regulatory Receiverships" panel featured Mark Dottore, Kevin Duff, Wayne Klein, Kathy Phelps and Tom Seaman. Here are some examples: a secured lender whose borrower operates across several states; Ponzi scheme alleged by a lawyer for a victim who does not wait for the regulators to act; defrauded investors; high asset divorce cases (where assets may waste), and business partnership disputes (where assets may waste). Further, a federal receivership may be needed to close down businesses, like assisted-living facilities or accounting practices, where lost licenses can deprive management of necessary authority. The panelists discussed the comparative merits of a federal receivership and an involuntary bankruptcy case, and they noted that all parties must remember that the receiver answers to the court per the appointing order, and not to the seeker of the remedy. The 169 pages of material provided in connection with this panel underscored the seriousness with which the panelists and NAFER take their educative mission.
The "Judges Panel: The Appointment and Management of a Receiver from Pre-Appointment through Dismissal" honored the watchword of each NAFER conference: "Know your judge." To that, we should add: "Educate your judge and win his or her confidence." Robert Mosier moderated the discussion.  The participants were the Hon. Philip Gutierrez (C.D. Cal.), the Hon. Rebecca Pallmeyer (N.D. Ill.) and the Hon. Pamela Pepper (E.D. Wis.), who all provided road-tested knowledge and humor. The typical federal district court handles several hundred matters a year and finds itself faced, on occasion, like a bolt from the blue, with a massive fraud case requiring a receiver's appointment, retention of many professionals, coordination of multi-jurisdictional (including foreign) investigatory and asset recovery operations, and very significant litigation.
"The Ponzi Man" (With Apologies to Billy Joel)
Finally, this conference marked the passing of the NAFER presidency from Greg Hays to Kevin Duff. At the NAFER cocktail reception, held in a hall that resembled a dark-paneled grand salon on a tall ship, Greg Hays led the audience in a rousing roundelay pastiche on Billy Joel's "Piano Man" entitled "Ponzi Man." Our favorite lines:
Now Paul is a real estate novelist
Whose savings he's told to invest
After meeting with Chuck, he turned over his bucks
And you can imagine the rest
The "defensive backfield" from the "Introduction to International Issues: Where Has All the Money Gone" panel sang with grit and volume.
In sum, a federal receivership is an equitable remedy employed to protect the interests of persons and entities harmed or potentially harmed by a business or property that is subject to federal jurisdiction. Federal district courts appoint federal receivers at the request of harmed persons (like creditors or defrauded parties) or of federal regulatory entities, like the Securities and Exchange Commission, the Federal Trade Commission, and the Commodities Futures Trading Commission, which represent the diffuse interests of people protected by federal laws and regulations.
The federal receivership remedy is not well known even among insolvency professionals though it has grown in use in recent years, and we anticipate that its use will continue to grow. A federal receiver can quickly and efficiently gain control over a defaulting or fraudulent business in order to maximize returns to the receivership's beneficiaries. Federal receiverships are often imposed on businesses that engaged in Ponzi schemes and other securities fraud. To read an excellent short article on the subject, click here.
---
1 

DailyDAC's website and its newsletter (emailed to approximately 10,000 opt-in subscribers each week) educate C-level executives, business owners, and professional investors about restructuring and insolvency. Receivers can advertise asset sales with DailyDAC at a cost far less than a newspaper ad and a share of proceeds goes to NAFER. For examples of such notices, click

here.