Public Notice: HYPERAMS Announces Sealed Bid Sale of 72-Acre State-of-the-Art Wood Pellet Manufacturing Plant – Bid Deadline July 31st.
1. Overview. HYPERAMS is offering for sale a state-of-the-art wood pellet manufacturing plant currently owned by TRAE-Fuels, Ltd.
2. Turnkey Sale v. Piecemeal Sale.
The July 31st Bid Deadline is the deadline by which HYPERAMS must receive sealed bids for the entire manufacturing plant and its real estate on a turnkey basis.
If an acceptable sealed bid is not received by July 31st then HYPERAMS will conduct an online auction of the manufacturing plant's machinery and equipment on August 20th.
3. About the Manufacturing Plant.
Located at 1376 Fredericks Hall Road in Bumpass, Virginia 23024, the Manufacturing Plant is a state-of-the-art facility located on a 72-acre parcel. Just 40 miles from Fredericksburg, Virginia, the Facility is strategically located near the ports of Richmond, Norfolk, and Portsmouth. In addition, being situated on the East Coast provides plentiful, sustainable, and cost-effective feedstock.
The Facility is configured to produce wood pellets used for home heating and as an alternative in power generation. It consists of a full-scale chipping operation with rail loadouts and 700 feet of chip conveyance. The main pelleting plant has two chip dryers, a 600-ton main hammermill, four 500 horsepower Bliss pelleting mills, and a fully automated Hamer bagging operation. It also features three-car rail siding and outdoor storage for up to 20,0000 tons of product (bagged on pallets) with a placard capacity of 130,000 tons annually.
The Facility is a well-positioned renewable energy producer in the rapidly growing wood pellet energy market
4. Inspections & Additional Information.
Inspection may be made, by appointment, through July 25, 2020. Interested parties should contact Bob Pabst at HYPERAMS for further information: 847-499-7023 or [email protected].
If an acceptable sealed bid is not received by July 31st then HYPERAMS will conduct an online auction of the Facility's machinery and equipment beginning on August 20th, in which case a second inspection of the assets will be made available to interested buyers on August 19, 2020.
5. About HYPERAMS. HYPERAMS is a full-service auction, appraisal, retail advisory and liquidation, and reverse logistics firm serving North America. We specialize in assisting both distressed and healthy companies manage surplus assets by providing clients with a complete asset disposition strategy.
---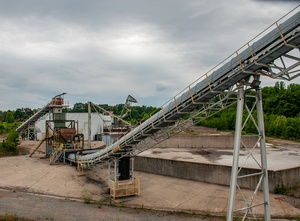 About DailyDAC
DailyDAC™ is the oldest, most trusted, and most widely used provider of public notices of asset sales and case commencements, and other important notices involving companies in financial distress in the United States and Canada. DailyDAC™ public notices are used by bankruptcy trustees, chapter 11 debtors in possession, federal and state court receivers, and secured parties disposing of their collateral under Article 9 of the Uniform Commercial Code or other state law trust (and their respective auction firms, law firms, and other agents). Learn more.
Many sales of distressed companies and distressed business assets are not widely advertised. If you are buyer of such companies or assets, you may be well served by becoming a paying subscriber to Distressed Deal Data™. Find out more.