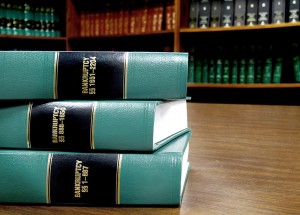 A written tour of business bankruptcy and its alternatives
Our most recent installment in this series gives an overview of the automatic stay. In this installment we dive a little deeper, and we start with this question:  how do you know when a contemplated action would violate the stay and, thus, require stay relief before the action is taken? Consider these examples:
a plaintiff believes that its lawsuit relates wholly to post-petition conduct, but the debtor alleges that it is based on pre-petition events;
a creditor believes that it is exercising a right of recoupment (not subject to the stay), while the debtor characterizes the action as a setoff, which is subject to the stay;
a creditor with a contract to supply goods to the debtor wants unilaterally to modify credit terms post-petition to minimize its risk, but the debtor argues that the unilateral contract modification violates the stay; or
a dispute over whether a transaction between the debtor and a counterparty constitutes a securities transaction of the type that is exempt from the stay.
These and other similar situations pose difficult strategic choices for the nondebtor party and its counsel. On the one hand, creditors often want to act quickly.  On the other hand, consequences for violating the automatic stay can be severe.  At the end of the day, many creditors opt to seek relief from the bankruptcy court as a precautionary measure, or elect to file a motion seeking a determination that the stay does not apply to the contemplated action.  The knowledgeable and confident attorney, however, will look to save her client time and money and advise that the stay is inapplicable when that is what she concludes.
How to Get Relief from the Automatic Stay
If a creditor decides it needs relief from the stay, it must seek that relief by filing a motion under §362(d). Such a motion is a contested matter proceeding, governed by Bankruptcy Rule 4001.
Timing
Bankruptcy Code §362(e)(1) provides that the court may hold both a preliminary hearing and a final hearing on a motion for relief from the stay, or may consolidate the two into a single hearing.
The court must hold a preliminary hearing within 30 days after a motion for stay relief is filed, unless the movant agrees otherwise. If the initial hearing is a preliminary hearing, then a final hearing must be concluded no later than 30 days after the conclusion of the preliminary hearing, unless the parties agree otherwise or the court finds "compelling circumstances."
These provisions are intended to provide a prompt resolution of motions for relief from stay, recognizing that creditors who are entitled to relief from the stay often face substantial risk and imminent harm. However, §362(e), does provide for some delay
If the Debtor is a Human Being
Bankruptcy Code §362(e)(2) pertains to relief from stay in an individual's case and sets up an automatic relief from the stay process 60 days after filing the motion unless the court orders otherwise for good cause or the parties agree otherwise.
Expedited Stay Relief
There are cases where a creditor will seek relief from the automatic stay on a very expedited basis, and, where immediate relief is necessary to avoid irreparable harm, courts are often willing to give expedited consideration. See §362(f).
Ground for Relief- Recap
(Again, we covered this in less detail in Installment #10 so go back and read that if our more detailed coverage below is too much to digest at once)
Bankruptcy Code §362(d) specifies the grounds for obtaining relief from the automatic stay.
First, §362(d)(1) states that relief from the stay may be granted "for cause, including the lack of adequate protection of an interest in property…."
Secured creditors, and certain other parties who have an interest in property of the estate, are entitled to adequate protection to protect against diminution in the value of their collateral (or other property in which they have an interest) during the chapter 11 case.
For example, a mortgage lender whose pre-petition collateral is diminishing in value during the bankruptcy case may be entitled to periodic cash payments to compensate for the loss in collateral value. If a party is entitled to adequate protection, but the debtor is unable or unwilling to provide it, this is a basis for relief under §362(d)(1) of the Bankruptcy Code.
Note that §362(d)(1) refers to "cause, including the lack of adequate protection…" Thus, the statute appears to contemplate types of "cause" other than lack of adequate protection, although it does not say what they are.  Courts uses broad discretion in granting such relief. Some examples of situations that have been found to constitute "cause" warranting relief from stay:
Failure to maintain and preserve collateral
Failure to pay taxes
Undue delay by the debtor in proposing a plan or reorganization
Courts balance "cause" under §362(d)(1) against the interests of the estate– that is, against the interests of the debtor and of other non-moving creditors
Bankruptcy Code §362(d)(2) allows a secured creditor to obtain relief from the automatic stay with respect to an act against property of the bankruptcy estate if,
the debtor does not have an equity in such property; and
such property is not necessary to an effective reorganization.
To meet the first requirement, the value of the property must not exceed the amount of all debts secured by liens on such property. The second factor requires a finding that the property is not necessary to an effective reorganization,and may be satisfied either by showing that an effective reorganization may occur without the particular piece of property at issue or, alternatively, that the debtor is unlikely to successfully reorganize within a reasonable time.
Bankruptcy Code §362(d)(3) deals with the special subsection of single asset real estate bankruptcy cases, which are generally two-party contests and not representative of typical chapter 11 cases. Secured creditors tend to argue that these are not "real" chapter 11 cases and that it is unfair to impose delay and market risk on the secured creditor. Debtors, meanwhile—or their partners or shareholders—use the respite afforded by the stay to wait for market improvement, seek to enhance value through leasing or going concern sale, or at least to delay the tax effects of a foreclosure.
Section 362(d)(3) was added to the Code to help make these cases move faster than before.  It provides that a secured creditor in such a case is entitled to relief from the stay to foreclose on its collateral, unless the debtor has filed a plan of reorganization that has a reasonable prospect for confirmation within a reasonable time period or begins paying monthly interest to the secured creditor at the non-default contract rate of interest no later than 90 days after the bankruptcy filing (although the court may extend this period)..
Finally, the fourth provision, §362(d)(4), provides that, with regard to the stay of an act against real estate (e.g., eviction or foreclosure), if the court finds that the case was filed as part of a scheme to delay, hinder, or defraud creditors either by transferring all or part of an interest in the property without secured creditor consent or by multiple bankruptcy filings, the court may grant "in rem" relief from stay. That is, the court order granting relief from the stay can be recorded and be binding in a subsequent case involving the same property for up to two years, subject to an opportunity for the new debtor to demonstrate changed circumstances.
To read other installments in this series, click here.
If you would like to learn more about this and related topics, check out the webinar, Basics of Bankruptcy for the Non-Bankruptcy Litigator.
For a great discussion on insolvency, we recommend this webinar and this webinar. You can also learn about federal equity receiverships here, and get advice on what to do when your business is struggling here.