The Robbins Company ("Robbins") is one of the world's foremost providers of advanced, underground construction equipment and services, including Tunnel Boring Machines (TBMs) and related equipment such as conveyors and cutters.
Robbins' TBMs and cutters have excavated more hard rock than all of Robbins' competitors combined. Robbins has built its reputation for nearly 70 years, developing a global brand with rep agreements or subsidiaries in 27 countries, historically generating approximately 90% of revenues outside of the United States. It is believed that Robbins' EBITDA will average at approximately $3 million per year over the next four years.
Robbins was placed in receivership in the Cuyahoga County Court of Common Pleas (Case No. CV-19-921031) (the "Court") in October 2019. The receivership action was initiated by Lok Home, the President, a large creditor, and a minority shareholder of Robbins, as part of an overall effort to improve Robbins' liquidity, address corporate governance issues, and effectuate a restructuring of the company's financial affairs. On October 7, 2019, Inglewood Associates LLC, through its CEO/Managing Director, John K. Lane, was appointed receiver (the "Receiver") over Robbins.
The Receiver is conducting a sale process for the sale of Robbins, and he has received a stalking horse bid including the purchase of substantially all of Robbins' assets and the assumption of certain liabilities. This bid is subject to overbids and the approval of the Court. The Receiver has commenced an overbid process, and all qualified bids must be submitted by Monday, December 14, 2020 at 12:00 p.m. If the Receiver receives any overbids by that date, he will hold an auction on December 16, 2020. It is expected that the transaction will close no later than January 31, 2021. Details on the bidding procedures are available from the Receiver. Investment considerations about Robbins are as follows:
Robbins' products include tunnel boring machines (TBMs) (50% of revenue), small boring machines (SBUs), cutters, and conveyor systems.
Robbins has a history of innovation, leading its industry with a number of "firsts" dating back to the 1950's.
Robbins' TBMs hold nearly 90% of world records for TBM advancement, cementing Robbins' reputation for superior performance.
Robbins' engineers have developed key innovations enabling the success of some of the most complex major civil projects of our time like the Channel Tunnel Rail Link, the Chicago Tunnel and Reservoir Plan and the Moscow Metro.
Robbins maintains an estimated 40 -50% market share in hard rock and Mixed rock and soil conditions (outside of China) and a share of the more commoditized, soil/non-rock tunneling markets.
With globally proven tunneling expertise, Robbins has built entrenched relationships with a diverse group of customers who value the company's high quality, custom product solutions, as well as its engineering and service support capabilities.
New entrants face enormous investments to develop and test similar tunneling solutions and, in this high-cost-of-failure environment, are faced with customers who are reluctant to purchase from vendors that do not have a proven, successful track record.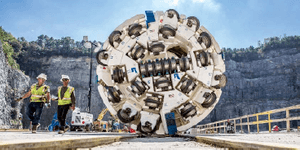 All inquiries and requests for information should be coordinated the Receiver, John K. Lane at The Robbins Company, P.O. Box 180, Grand River, Ohio 44045; [email protected] and the Receiver's counsel, Sean Malloy, Esq. and Michael Kaczka, Esq., at the following address: McDonald Hopkins LLC, 600 Superior Avenue, Suite 2100, Cleveland Ohio, 44113; [email protected]; [email protected]. Under no circumstances should the management, employees, shareholders, customers, representatives or affiliates of Robbins be contacted directly.
About DailyDAC
DailyDAC™ is the oldest, most trusted, and most widely used provider of public notices of asset sales and case commencements, and other important notices involving companies in financial distress in the United States and Canada. DailyDAC™ public notices are used by bankruptcy trustees, chapter 11 debtors in possession, federal and state court receivers, and secured parties disposing of their collateral under Article 9 of the Uniform Commercial Code or other state law trust (and their respective auction firms, law firms, and other agents). Learn more.
Many sales of distressed companies and distressed business assets are not widely advertised. If you are buyer of such companies or assets, you may be well served by becoming a paying subscriber to Distressed Deal Data™. Find out more.