Illinois-Based Precision Sheet Metal Fabricator/CNC Machine Shop Acquisition Opportunity
Company Overview
The Company is an established Precision Sheet Metal Fabricator, CNC Machining, Metal Finishing and Value-Added Manufacturer located in Des Plaines, Illinois, just minutes from Chicago's O'Hare Airport. Founded in 1957, the Company currently operates in a 100,000 square foot facility and employs 50 people. The Company is an approved supplier for Commercial Aerospace, Military and Defense, Medical and other industries that demand the highest quality parts. The Company's strength is in the manufacturing of custom close tolerance component fabrication in all alloys, CNC vertical and horizontal milling, turning, metal finishing, design assistance, and processing from inception to prototype to full production. The Company is certified to ISO 9001:2015 and AS9100D, has NADCAP approval for Chemical Processing and Welding, and has earned "Top Supplier" awards from many of its major customers.
Current Situation
Historically, sales have been over $12MM annually with concentrations to Fortune 500 customers in the aerospace and healthcare industries. Traditionally, the product mix has been approximately 65% aerospace, 30% healthcare, 5% industrial. However, due to COVID, the business has experienced a significant loss in revenues as has most of the aerospace industry. In 2020, revenues fell 27% to $8.2MM. Losses were incurred due to write downs in inventory and adjustments to overhead costs. The Company has absorbed costs and write downs associated with this downturn in business. The resulting Company is a much more streamlined version of the previous company and poised for growth and profitability. As a Tier II, single source supplier of ITAR approved parts to aerospace industry, an acquirer can use leverage to negotiate price increases with marquee industry partners to advance sales in the aerospace and healthcare industries.
The Opportunity
The Company is seeking to sell either a portion or all of its business, including inventory and equipment, in the form of a sale to a strategic investor familiar with these industries. Newpoint Advisors is available to provide additional information and details on data available for prospective buyers that are willing to sign an NDA. The Company contemplates that a sale will happen on an expedited basis.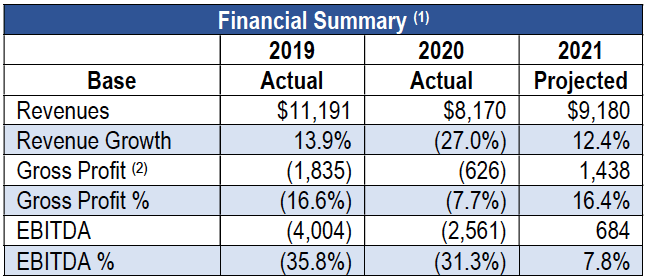 Transaction Summary
Type of Transaction: An Equity or Asset Purchase of a Machined Metal Parts manufacturer, or alternatively the segments/product lines (aerospace and healthcare) will be sold separately.
The going concern includes inventory, receivables, leasehold improvements and goodwill.
NOTE: The Company's business plan and financials have not been audited by Newpoint Advisors Corporation and are subject to the potential acquirer's due diligence. The purpose of this document is to gauge interest in a potential acquisition of the Company described above.
For further information please contact:
Matthew Brash – [email protected]
Trent Hodge – [email protected]
---
About Newpoint Advisors Corporation
Newpoint Advisors Corporation is a turnaround consulting firm dedicated to improving troubled and financially underperforming businesses with revenues of $1-50MM and/or credits of less than $10MM. Our collaborative, process-oriented approach allows us to deliver objective solutions for a fixed fee and on a fixed timeline. Newpoint Advisors believes in a cooperative team approach: we work with our clients to educate them in ways that maximize profitability and growth. Our tool kits provide a tangible deliverable to assist in monitoring borrowers. Please contact any members of our team if you are interested in this opportunity.