Commercial Receivers Association Continues Rapid Growth with Launches in DC, Philadelphia, and New York this Week
(ST. LOUIS, MO) March 20, 2023 – The Commercial Receivers Association (CRA) continues its rapid expansion across the United States this week with launch events in Washington, DC (March 21st), Philadelphia, PA (March 22nd), and New York City (March 23rd).  The Association which continues to rapidly expand hosts networking events to open new markets and welcomes all receivership practitioners to join the launch events.  Those interested are encouraged to learn more and register at the links below.
Washington, DC March 21st – Hosted by Husch Blackwell at their offices at 18th and Pennsylvania Avenue NW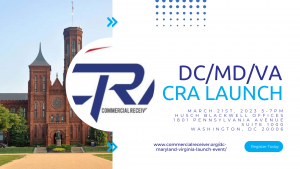 Philadelphia, PA March 22nd – Hosted at The Bellevue Hotel in the XIX Event Space
New York, NY March 23rd – Hosted at the Thompson Coburn Offices at 488 Madison Avenue
The Commercial Receivers Association has already hosted launch events in St. Louis, Kansas City, Dallas, Denver, Minneapolis, Oklahoma City, Phoenix, Miami, and Atlanta and continues expansion with events planned for Seattle, Portland, and Chicago in May and June.  In addition, the Commercial Receivers Association has their first Annual Conference planned for August 21-23, 2023 at Saint Louis' Union Station.
---
Established in 2021, the Commercial Receivers Association is a national membership organization focused on Empowering the Education and Standardization of Commercial Receivership Administration while providing education, networking and practical resources for our members.  For more information, please contact [email protected] or go to www.commercialreceiver.org.
About DailyDAC
DailyDAC™ is the oldest, most trusted, and most widely used provider of public notices of asset sales and case commencements, and other important notices involving companies in financial distress in the United States and Canada. DailyDAC™ public notices are used by bankruptcy trustees, chapter 11 debtors in possession, federal and state court receivers, and secured parties disposing of their collateral under Article 9 of the Uniform Commercial Code or other state law trust (and their respective auction firms, law firms, and other agents). Learn more.
Many sales of distressed companies and distressed business assets are not widely advertised. If you are buyer of such companies or assets, you may be well served by becoming a paying subscriber to Distressed Deal Data™. Find out more.