NOTICE OF PUBLIC SALE
Of Certain Personal Property of OptMed, Inc.,
a Delaware corporation
PLEASE TAKE NOTICE that on Wednesday, October 20, 2021, at 10:00 a.m. (ET), there will be sold at public sale (the "Sale") conducted virtually via GoToMeeting, on the terms set forth below, all right, title, and interest of OptMed, Inc., a Delaware corporation ("Pledgor"), in the following property (the "Auctioned Collateral"), whether now owned by Pledgor or hereafter acquired and whether now existing or hereafter coming into existence: (a) all Patents of the Pledgor, which includes eleven issued US patents (ten utility and one design), two issued Chinese patents, one pending US patent application, and one pending Chinese patent application; (b) all Trademarks of the Pledgor, which includes one registered U.S. trademark for BONDEASE for "Adhesives, sealants and tissue bonding substances for surgical and other general medical uses"; and (c) all proceeds of and to any of the property of Pledgor described in clauses (a) and (b) above and, to the extent related to any property described in said clauses or such proceeds, all books and records (in whatever form or media, whether tangible or electronic, together with related software, and including all "records," as defined in the Uniform Commercial Code) to the extent such records are in the possession of the Collateral Agent. At the Sale, the Auctioned Collateral will be offered as a single block to a single purchaser, and will not be split up or broken down. The Sale will be conducted by H.B. Fuller Company, in its capacity as Collateral Agent (the "Collateral Agent"), pursuant to Article 9 of Chapter 38 ("Uniform Commercial Code") of the Consolidated Laws of New York and the bidding requirements that have been established by the Collateral Agent. A copy of such bidding requirements and auction videoconference information can be obtained by contacting Heidi Lipton ([email protected]) and/or Tim Peach at Rock Creek Advisors ([email protected]) or by visiting https://www.rockcreekfa.com/optmed-inc/ for additional details and information. The bidding requirements require, among other things, that a potential bidder provide certain information and a refundable deposit at least five (5) business days prior to the Sale. Only persons that fully comply with the bidding requirements will be permitted to bid at the Sale.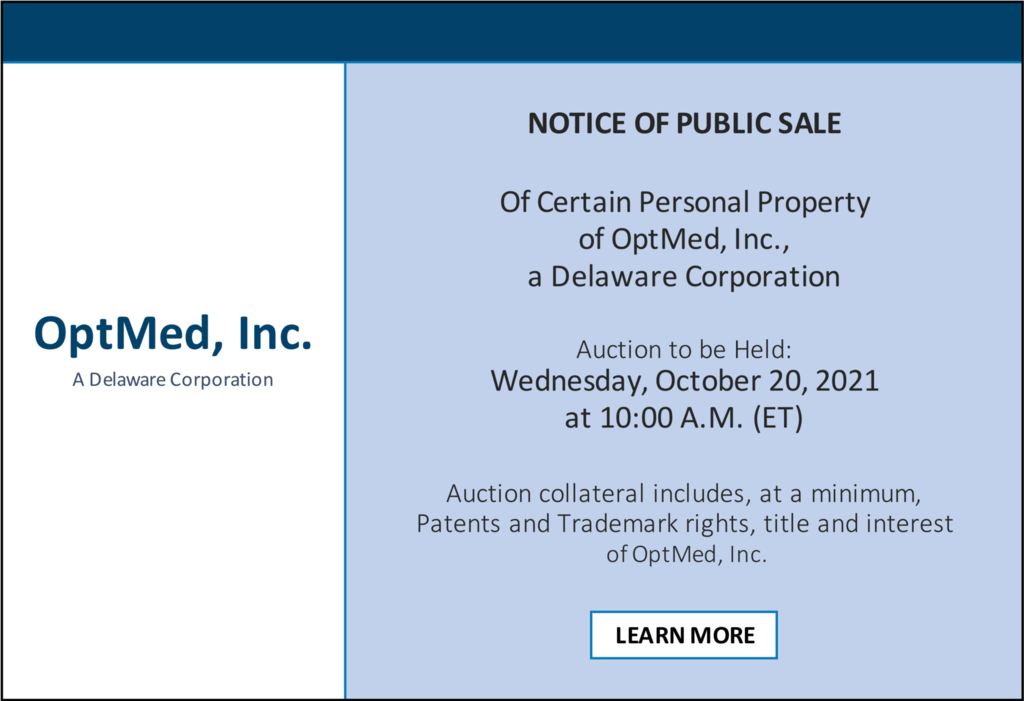 About DailyDAC
DailyDAC™ is the oldest, most trusted, and most widely used provider of public notices of asset sales and case commencements, and other important notices involving companies in financial distress in the United States and Canada. DailyDAC™ public notices are used by bankruptcy trustees, chapter 11 debtors in possession, federal and state court receivers, and secured parties disposing of their collateral under Article 9 of the Uniform Commercial Code or other state law trust (and their respective auction firms, law firms, and other agents). Learn more.
Many sales of distressed companies and distressed business assets are not widely advertised. If you are buyer of such companies or assets, you may be well served by becoming a paying subscriber to Distressed Deal Data™. Find out more.